Emotions of the Season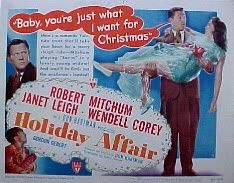 That right there...
Holiday Affair
....is my favorite Christmas movie...and not the remake from Lifetime but the
original
with Robert
Mitchum
and Janet Leigh. BUT, thanks to Turner Classic Movies...once again, I will not be able to curl up on my couch with a cup of hot cocoa and my quilt and watch the movie that since I was a young child have made as my holiday tradition because I don't have
TCM
on my basic cable account. DAMN THEM!
Sure I could buy the DVD, but it's not the same as waiting every year...scheduling in that time slot...the anticipation...the tradition of it all. There was a time when this movie could be found in the wee hours on t.v. as some filler...a time when no one but me understood just how great of a
classic
it is.....DAMN THAT
TCM
!
Oh well..............
Some of the other classics I enjoy this time of year is of course old stand
bys
...
And then of course there is a whole bunch of other movies I adore this time of year...but not as much as the ones I mentioned above...
And then there are the commercials....that's right...the commercials that make me choke up as a tear rolls down my cheek...this one below gets me
every time
! DANG!!! I am crying now as I preview the clip to share with you all.....
Ok
...that's enough tears for one morning....I'll share my favorite holiday songs in a post to come, however I will leave you with the one that touches me as a mother and that bond ...that love a mother has for a child...another one that there better be a tissue around when I hear it....